Call us for our skin rejuvenation package specials!
Specials include PRP, Fillers, and Peels!
(650) 325-2829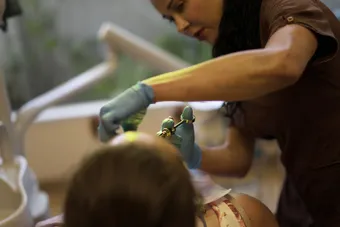 Organic Blood Therapy
A New Trend In Anti-Aging & Skin Regeneration
A trend for rejuvenating skin that has emerged in the past few years requires the use of one's own blood to be re-injected into the skin. By using CGF (Concentrated Growth Factors – the most advanced form of platelet concentrates) and PRP (Platelet Rich Plasma) from platelets, your blood is used to heal regenerate tissues and build collagen.
This treatment modality harnesses the healing power of platelets – components in the blood that initiate and regulate tissue repair – and release biphasic growth factors from blood to stimulate a stem cell response. Then stem cells help you to grow new collagen and blood vessels, repair and regenerate damaged skin and help slow the signs of aging. CGF is now widely used in orthopedic medicine, dentistry, sports medicine, gynecology, dermatology, and reconstructive surgery. Now, Doctors have discovered its healing and regeneration properties can also be used in cosmetic to stimulate skin rejuvenation.
---
---
---
CGF FACIAL REJUVENATION EXPLAINED
Dr. Allison Patton
CLINICAL ESTHETICIAN ON SITE
---
Silkpeel Dermalinfusion
Dermalinfusion is an advanced skin-resurfacing treatment that combines exfoliation and infusion of condition-specific serums to improve skin health, function and appearance. A patented, non-invasive treatment, dermalinfusion is fully customizable and the perfect solution to address a wide variety of skin concerns and conditions from head-to-toe and is suitable for all skin types and tones. (see blog page for more info.)
Couture Custom Facial
The ultimate facial tailored to treat each individual skin type. Includes steam cleansing, exfoliation, deep pore extractions, relaxing massage, soothing mask, customized serum, hydration, refreshing toner, eye cream, and sun protection. *recommended to add a peel, silk peel dermalinfusion, or led light therapy with additional cost.
20% Lactic Peel
Smooths, hydrates and brightens, improving the appearance of fine lines and pigmentation discolorations with little to no downtime. With a slightly larger molecular size than other hydroxy acids, lactic acid is a preferred option for dry and sensitive skin as well as first-time peel clients. Added antioxidants help repair damage and strengthen skin.
Glycolic 30%, 40% Or 60%
Repairs and regenerates the skin. A versatile and fast acting exfoliant appropriate for most skin types, effectively aids oily, problematic skin. Improves the appearance of uneven tone, smooths skin texture and softens fine lines.
30% Salicylic Peel
A beta hydroxy acid that stimulates exfoliation and deeply cleanses pores with antiseptic properties. Treats inflamed acne and rejuvenates skin.
Luxury Exfoliant
A unique and versatile professional exfoliant which provides an effective way to achieve skin sloughing. This leave-on, anhydrous retinol, and vitamin c formula are designed to be used to intensify another chemical exfoliant. Ideal for anyone who would like a stronger level of exfoliation to create a dramatic change in the skin. Helps to reduce the appearance of pigmentation, controls acne, brightens and resurfaces the skin for a smoother appearance. Requires approximately 5-7 days of downtime.
Haute Couture Custom Peels
Designed for individuals of all skin types either seeking more significant skin rejuvenation in fewer treatments than progressive gel peels and with less downtime than more aggressive procedures. Excellent for overall skin rejuvenation to address the appearance of fine lines and wrinkles, acne and light pigmentation. Great solution for resurfacing and rejuvenation of ethnic skin with less wounding. Requires approximately 5 days of downtime.
Pure Collagen Mask Treatment
This unique treatment infuses collagen and elastin nano-molecules into the skin. the result is younger suppler skin just after one treatment with natural freeze-dried collagen. Benefits include enhanced moisture levels and hydration, improved function of skin capillaries, recovers loss of firmness and elasticity and produces visible plumping of the skin.
Led Light Therapy
Light emitting diode treatment is gentle, painless, safe, non-invasive and nonabrasive. Led light therapy is effective for collagen production, fine lines, and wrinkles, sun damage, acne, sensitive and inflammatory conditions such as rosacea, eczema, psoriasis and post-treatment healing and scars.
Couture Custom Lashes
Couture aesthetics only use Xtreme lashes® by Jo Mouselli, rn. We use hypoallergenic, prime quality medical grade adhesive and always practice safety and sanitation using disinfected tools and properly cleansing, prepping and priming lashes before applying. Xtreme lashes® eyelash extensions are your ultimate answer for longer, thicker, more beautiful-looking eyelashes. Developed to mimic your natural eyelashes, each Xtreme lashes® eyelash extension is individually applied to a single eyelash, resulting in a gorgeous, natural appearance. Using a proprietary adhesive, Xtreme lashes® eyelash extensions are only applied by a trained and certified Xtreme lashes® eyelash extensions stylist. Xtreme lashes® eyelash extensions are not traditional false eyelashes, eyelash flares or implants. Safe and comfortable to wear, Xtreme lashes® eyelash extensions are never applied directly to your skin or eyelid. With routine touchups every two to four weeks, you can have amazing eyelashes indefinitely.
Makeup Services
· Wedding/bridal
· Special events
· Photography
· Runway
· Corrective/ camouflage
Advanced Aesthetic Education
Makeup lessons or private hands-on training sessions for student estheticians or licensed estheticians looking to advance their careers in the beauty field or medical aesthetics. Please inquire.
Are you interested in our Skin Rejuvenation treatments? Call Negar Parravi, D.D.S, serving Menlo Park, Redwood City, & Palo Alto CA, at (650) 325-2829 for an appointment!